There are dozen of journal software for Mac. However, only a small number of software are worth trying. Some journal programs are outdated and some are of poor quality. I singled out five software that you may find useful for keeping journal. Try them.
This is probably the most popular journaling software for Mac. It is also available as an app for iPhone and iPad. It syncs journal entries among Mac, iPhone and iPad using iCloud or Dropbox. You can add photos to entries.
Day One is easy to use and has a simple and beautiful interface. It is recommendable for those who want to fast sync between Mac and IOS devices. Currently, Day One does not provide encryption of journal data, therefore if you need strong protection of data, you should look for other journal software.
Day One for Mac costs $9.99. Universal app of Day One for iPhone and iPad costs $1.99.
2. MacJournal
MacJournal has an established place as journaling software for Mac since it was first released in 2001. The software has many features such as multimedia support for iTunes songs, photos, YouTube videos. Mood icons for entries. Entry sorting based on topic, data, mood and etc. Timelime and calendar modes. Exports to blogs including Blogger, WordPress, Tumblr and etc.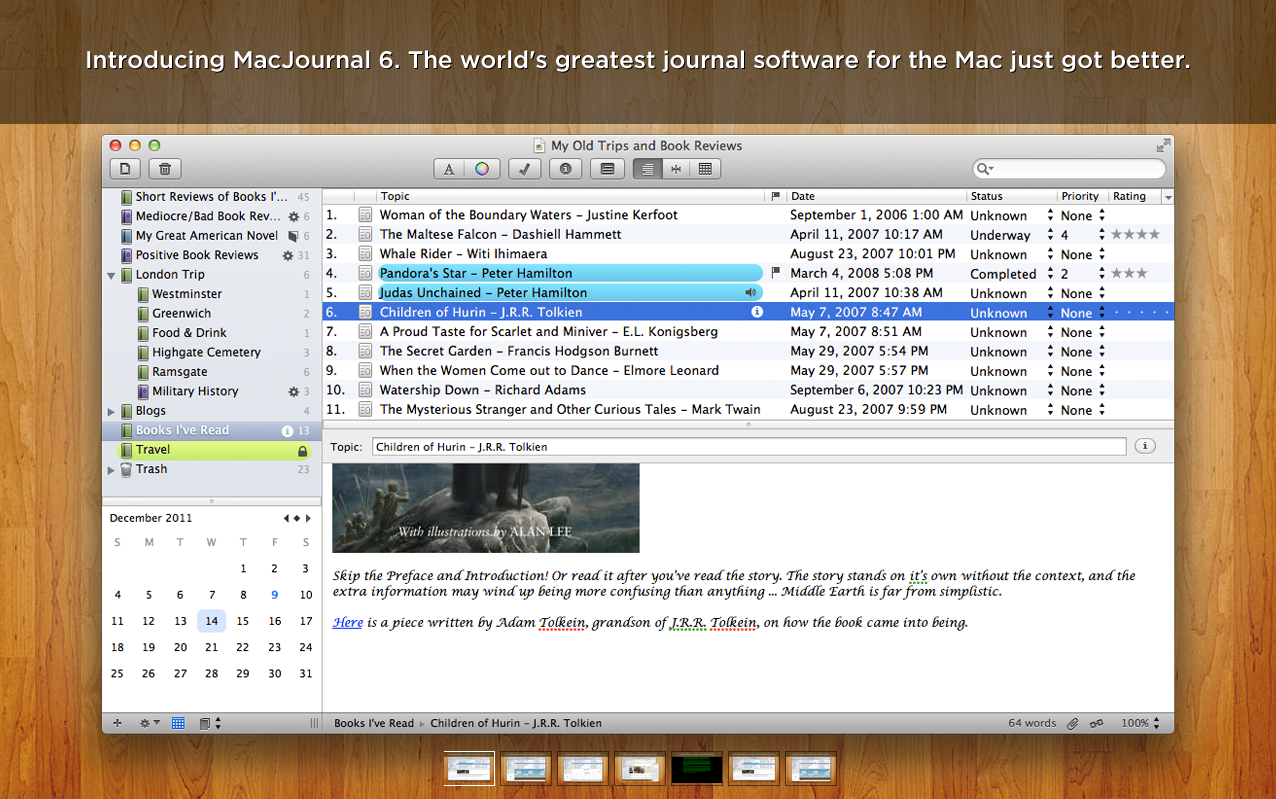 MacJournal supports AES–256 encryption for security. In sum, MacJournal is journal software with the most features compared to other software in this list. MacJournal costs $39.95
3. Bits
Bits is free journaling software for Mac. It supports photos, tags and cloud sync. It also support entry exports to blog platform such as Tumblr and WordPress. Bits also is available as free iPhone app.
4. Memoires
This software has simple interface and basic features such as inserting pictures, journal encryption, spelling and grammar checks, and quick search.
This is recommendable if you don't like complicated features and are looking for basic journaling software with only essential features.  Memoires costs $29.95
5. Evernote
Evernote is basically a universal clipper that can save almost everything such as website, notes, photos, and videos. However, Evernote is also a great  journal software.  You can make as many notebooks in the programs as you want and use the notebook as separate journals that contain entries or notes.  You can sort and search notes quickly.
It is very stable and has an intuitive interface. Moreover, the program itself is free as long as you don't use additional features like sync across computers or smartphones. If you want free journal software for Mac, Evernote is the answer.