Penzu is an online journal software. Online software has a distinct advantage over standalone software in that you can use the software regardless of what OS – Windows or Mac or even Linux, you have on your computer. Penzu comes in stripped down free version and commercial version with stronger security and more features.
The free version of Penzu has the following features.
– unlimited journal entry
– automatic save
– print
– insert photos (upload from your computer and through Flickr account)
– sharing through email
– Font changes
– individual entry lock and journal lock
Entry screen of Penzu looks like this.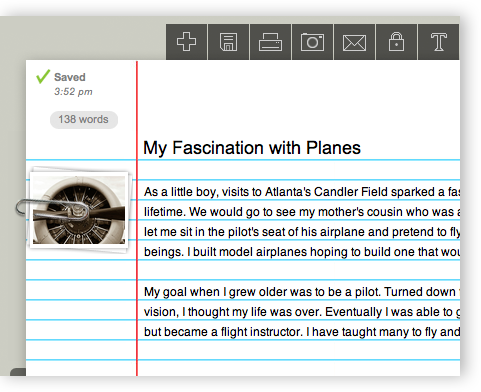 What I like about Penzu, after using it for a while, is the software's  clean and simple interface.  With a simple lined page and icons on the top, you have almost everything you need to keep a journal. I also like the search function that allows you to find entries of the past. At $19 per year, you can have pro version with more functionalities and better security. I recommend Penzu to people looking for free journal software.